New Ultra X 70-75µ coating
news
Ultra X is a uniquely beautiful, resilient, and sustainable pre‑painted steel for outdoor and indoor applications. It combines best-in-class UV and corrosion protection with durability and a large colour palette to make any building unique.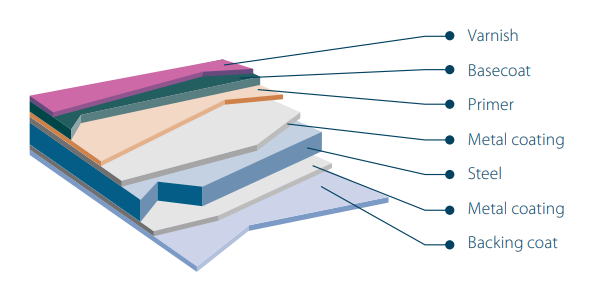 The strength of Ultra X comes from its 75μm three-layer coating system. The primer layer plays a key role in corrosion protection. On top of that is a basecoat, which ensures the steel's durability and provides the final colour. The coating is finished with a layer of varnish which adds texture to the coating, increases durability and surface robustness, and enhances the UV weathering potential of Ultra X.
Why choose Ultra X
Created in consultation with architects and designers, Ultra X is available in different colours.
Its exceptional UV resistance offers colour stability for many years.
Chromates and heavy metals-free, and 100% recyclable, Ultra X is highly sustainable: it has a lower CO2 footprint compared with alternative solutions such as aluminum.
The guarantee of 40 years is applicable to roofs and facades as well as the installation of rooftop photovoltaic modules.
Discover Ultra X
Download our colorflow brochure